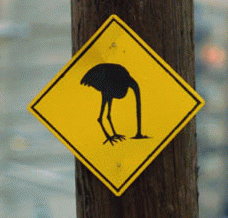 I'm declaring ostrich.
There are 12 unopened NYTimes in my living room. I've just /dev/nulled all mailing lists that mention politics at all. I apple-w blogs that mention red, blue or purple faster than a fundamentalist finding porn. I changed my morning radio station to not-NPR.
I've always been told that escapism is bad. I respect that view. But i went running full speed into a tornado and standing in the eye of the storm on November 2, i realized that i needed to duck before i got picked up and whisked away into nether-nether land. Politics are in the air; i haven't stopped breathing, but i'm trying not to light fires either. My political allies are too angry, too confused, too frustrated to think clearly or move forward in an effective manner. I can't join them in that state because i just end up angry with them and that's not fruitful. Sometimes, deconstruction is not the best tool in the shed. I know that this nightmare has temporal and spatial implications beyond my imagination and it is harrowing to hear the anger and fear in the voices of those beyond our borders. I just cannot hold on to all of these messages and emotions without crumbling.
I'm a true liberal. I believe that i need to be personally strong in order to fight on a larger scale. I can't fight with anger – i must fight with respect. I need to find grounding and in order to do that, i believe that stepping back is healthy and responsible. I live in an overly mediated world and sometimes, i just have to go back to my roots. Instead of reading the paper, i'm doing yoga.
Please respect me on this one. And if you're on one of those bazillion lists whose topic is purportedly not politics, please understand that i am taking a break.
PS: This is not a long-term solution, just a temporary one for me to get grounded.