Last week, six guys came into a party that i was cohosting and stole my stuff. The six came together and left together. Tonight, a dear friend found a picture of one of the guys online: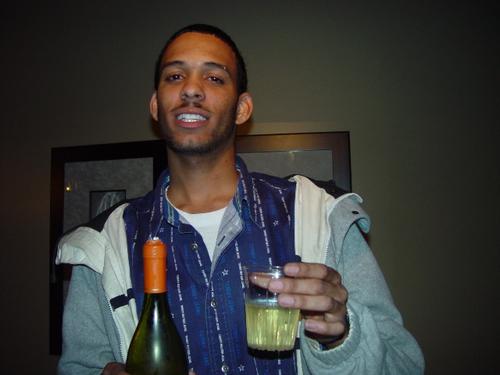 One party attender stated the this guy asked for the bathroom (where my purse was ripped apart for valuable items).
I contacted the photographer and he sent me the rest of the pictures where you can see more of the guys (time stamps: 1:24AM-1:39AM).
Another party attender accidentally walked in the bathroom when the actual robber was going through my bag. He didn't realize what was going on at the time, but he was able to ID the actual robber from this picture: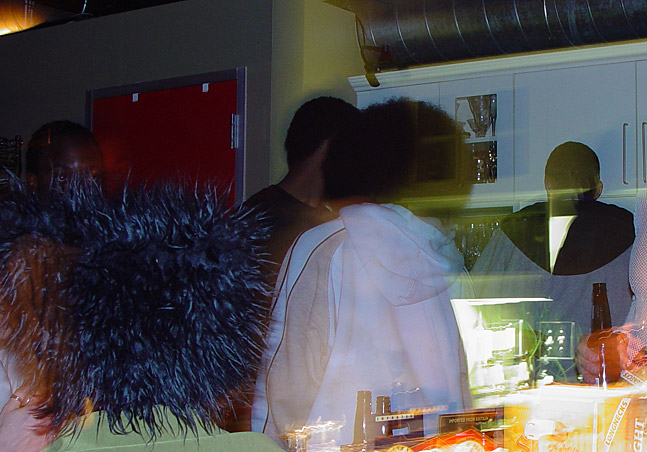 "He's in this picture, but his face isn't visible. He's the one standing closest to the orange door with the short hair and the green t-shirt. He was the tallest, least hip, and most drunk of the group. I wish you had something more identifying. That is definitely him."
Because these guys racked up my credit cards (and used the web from my phone), it's now a felony fraud investigation as well as a robbery. Thanks everyone for helping me track down more information. If anyone has any clues, do let me know. Needless to say, the bloggers are going faster than the detectives. Thank you thank you thank you to those3 who are looking out for me!
Update 3/23: Detective Jewett (the detective on this case) said that i could post his email if anyone has additional information and wants to send it directly to him. (Be nice! Don't send anything not related to the case, cause he's being open and helpful.)
Detective Jewett: jason [dot] jewett [at] ci [dot] austin [dot] tx [dot] us
Austin Police Report Number: 2004-501-1946

More pictures: