Logging onto Twitter to check out a few things quickly before running off to a homecoming football game, I couldn't help but notice something important: "Pep Rally" was trending as a US trending topic. I immediately clicked on through and found countless teens commenting on their school pep rallies. These teens were posting about pep rallies that were happening at different schools across the east coast. The fact that teens are on Twitter still comes as a surprise to some but what surprised me about this trending topic is that it's the first truly exogenous trending topic I've seen teenagers produce.
There are two types of trending topics on Twitter: endogenous and exogenous. Endogenous TTs happen when a topic has a viral spread. Once it becomes a TT, everyone jumps onto it to spread it even further. So when we see a hashtag like #intenyears we know it didn't happen naturally. It spread by a group of people until it became a TT and then off it went. Most highly visible teen participation centers on endogenous TTs. Sure, there are lots of tweens who like Justin Bieber but he trends on Twitter because people actively work to make that topic (or a related hashtag) trend. Exogenous TTs happen when everyone is talking about the same thing simultaneously, not really responding to each other or to the trending topic per say but responding to a cultural moment. This often happens when there are major new events or TV shows that are broadcasting something of great interest. For example, when Michael Jackson died, Twitter users were talking about MJ not because the topic was hott on Twitter but because it was simply of great public interest. Same with teens responding to events happening at the Teen Choice Awards.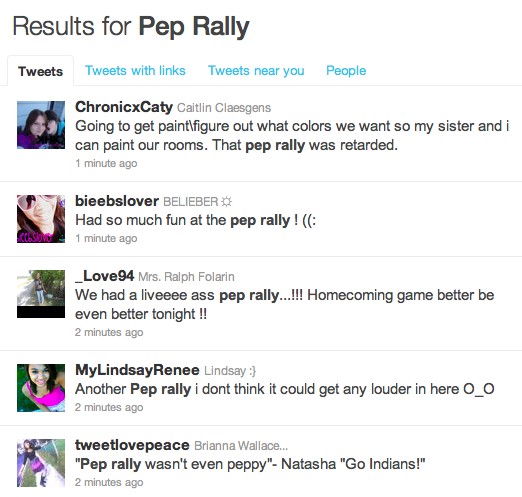 So then why am I so enamored with "pep rally" as a trending topic? It's Friday in the middle of October. A lot of high schools will have homecoming games tonight. Whenever there's a homecoming game in the States (and often for other games too), there are pep rallies at the end of the school day. Schools typically let out around 2.30PM. So around 3PM, I login to Twitter and voila, Pep Rally is a trending topic. Click on through and there are thousands of teens from all over the east coast (because time zones haven't shifted yet) talking about having just gotten out of the pep rally. Some were talking about it being lame; others were talking about it being awesome. But they weren't talking about the same pep rally. They were talking about their individual schools' pep rallies. Collectively, many teenagers are experiencing pep rallies right now, but it's not the same event that they're experiencing. They're talking about pep rallies, but what they're referring to isn't a shared event. Collectively, their discussions are trending. It's a fascinating exogenous trending topic that isn't even about the same event but rather about an activity that teens across EST (and now CST) are experiencing simultaneously but not coherently. Thus, the TT is more about marking a pattern of day (like "good night") than a particular event. And, in this case, an event that is wholly teen-centric. And now, as I finish this post, I can see the pep rallies finish in CST and start in MST. Amazing. And delightful.
OK… enough talking about pep rallies. It's time to go get ready for the homecoming games of the night. Hopefully I'll wear the right colors this time. (I'm really not good at color coordinating for football games.)