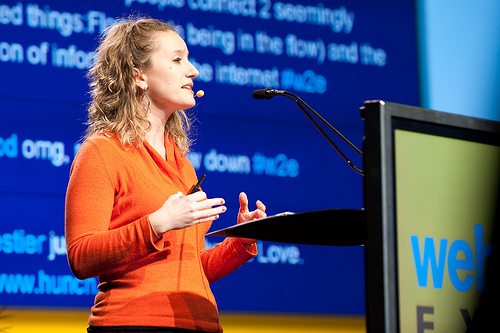 Last week, I gave a talk at Web2.0 Expo. From my perspective, I did a dreadful job at delivering my message. Yet, the context around my talk sparked a broad conversation about the implications of turning the backchannel into part of the frontchannel. In the last week, I've seen all sorts of blog posts and tweets and news articles about what went down. At this point, the sting has worn off and I feel that it would be responsible to offer my own perspective of what happened.
First, context. Web2.0 Expo is an expensive conference filled with all sorts of webby types, entrepreneurs, and business folks interested in technological development. It's a conference known for great talks by high profile people. Most of the talks are pretty conversational in nature – there are plenty of staged interviews and casual presentations.
Because of the high profile nature of Web2.0 Expo, I decided to write a brand new talk. Personally, I love the challenge and I get bored of giving the same talk over and over and over again. Of course, the stump speech is much more fluid, much more guaranteed. But new talks force folks to think differently and guarantee that I target those who hear me talk often and those who have never seen me talk before.
A week before the conference, I received word from the organizers that I was not going to have my laptop on stage with me. The dirty secret is that I actually read a lot of my talks but the audience doesn't actually realize this because scanning between my computer and the audience is usually pretty easy. So it doesn't look like I'm reading. But without a laptop on stage, I have to rely on paper. I pushed back, asked to get my notes on the screen in front of me, but was told that this wasn't going to be possible. I was told that I was going to have a podium. So I resigned to having a podium. Again, as an academic, I've learned to read from podiums without folks fully realizing that I am reading.
When I showed up at the conference, I realized that the setup was different than I imagined. The podium was not angled, meaning that the paper would lie flat, making it harder to read and get away with it. Not good. But I figured that I knew the talk well enough to not sweat it.
I only learned about the Twitter feed shortly before my talk. I didn't know whether or not it was filtered. I also didn't get to see the talks by the previous speakers so I didn't know anything about what was going up on the screen.
When I walked out on stage, I was also in for a new shock: the lights were painfully bright. The only person I could see in the "audience" was James Duncan Davidson who was taking photographs. Otherwise, it was complete white-out. Taken aback by this, my talk started out rough.
Now, normally, I get into a flow with my talks after about 2 minutes. The first two minutes are usually painfully rushed and have no rhythm as I work out my nerves, but then I start to flow. I've adjusted to this over the years by giving myself 2 minutes of fluff text to begin with, content that sets the stage but can be ignored. And then once I'm into a talk, I gel with the audience. But this assumes one critical thing: that I can see the audience. I'm used to audiences who are staring at their laptops, but I'm not used to being completely blinded.
Well, I started out rough, but I was also totally off-kilter. And then, within the first two minutes, I started hearing rumblings. And then laughter. The sounds were completely irrelevant to what I was saying and I was devastated. I immediately knew that I had lost the audience. Rather than getting into flow and becoming an entertainer, I retreated into myself. I basically decided to read the entire speech instead of deliver it. I counted for the time when I could get off stage. I was reading aloud while thinking all sorts of terrible thoughts about myself and my failures. I wasn't even interested in my talk. All I wanted was to get it over with. I didn't know what was going on but I kept hearing sounds that made it very clear that something was happening behind me that was the focus of everyone's attention. The more people rumbled, the worse my headspace got and the worse my talk became. I fed on the response I got from the audience in the worst possible way. Rather than the audience pushing me to become a better speaker, it was pushing me to get worse. I hated the audience. I hated myself. I hated the situation. I wanted off. And so I talked through my talk, finishing greater than 2 minutes ahead of schedule because all I wanted was to be finished. And then I felt guilty so I made shit up for a whole minute and left the stage with 1 minute to spare.
I walked off stage and immediately went to Brady and asked what on earth was happening. And he gave me a brief rundown. The Twitter stream was initially upset that I was talking too fast. My first response to this was: OMG, seriously? That was it? Cuz that's not how I read the situation on stage. So rather than getting through to me that I should slow down, I was hearing the audience as saying that I sucked. And responding the exact opposite way the audience wanted me to. This pushed the audience to actually start critiquing me in the way that I was imagining it was. And as Brady went on, he said that it started to get really rude so they pulled it to figure out what to do. But this distracted the audience and explains one set of outbursts that I didn't understand from the stage. And then they put it back up and people immediately started swearing. More outbursts and laughter. The Twitter stream had become the center of attention, not the speaker. Not me.
Yes, I cried. Yes, I left Web2.0 Expo devastated. I hate giving a bad talk but I also felt like I was being laughed at. People tried to smooth it over, to tell me that I was OK, that it wouldn't matter, that they liked the talk. But no amount of niceness from friends or strangers could make up for the 20 minutes in which I was misinterpreting the audience and berating myself. Nothing the audience could say could make up for what I was thinking about myself while on stage. So I went for a massage. And I spent 90 minutes trying to tell myself that I am a lovable creature. And when that wasn't working, I told myself to suck it up and deal. I knew that if I could convince myself to look like everything was OK that eventually I would believe it. Or at least that it would all go away.
Being on stage involves raw emotions. I have never gotten over the rawness of it all. I no longer vomit before every talk (although I used to) but my stomach does try to do the macarena. Or, more likely, the ridiculous dance done by 80s hair bands as they thrash about. I can't eat before I give a talk. And I visit the bathroom a bazillion times. Even when I'm brilliant on stage, I'm nervous as hell. But it's also emotionally and physically exhausting. I walk off the stage high as a kite and then, two hours later, crash. Giving talks drains me. It's brutal to try to publicly convey information, to be the center of attention. I much much much prefer to be the one observing than the one speaking. But I feel like giving talks is important. So I speak. But it ain't easy. And so when I walk off a stage not feeling invigorated, all I get is the raw drain, the gut-wrenching, nauseating feeling of pure misery. 20 minutes of being punched in the face, kicked in the stomach, and the shameful sensations one gets when one is forced to watch a Lars von Trier film. That's how I felt at Web2.0 Expo.
So…. the Backchannel?
Now that you've been forced to read my inner neuroses on public display, let's talk about making the backchannel the frontchannel. First off, let's be clear: I could not and did not see the Twitter stream from stage. Nothing was conveyed to me until the end. The stream was not a way for the audience to communicate to the speaker, but for the audience to communicate with itself. Lots of folks have talked about making the stream available to the speaker. Have any of you seen ustream? This is filled with "speakers" reading the stream and it's very choppy. There's no way that a speaker can simultaneously consume a stream and convey a message. Sure, a message every 30 seconds or so, no problem. But a stream? No way. And certainly not a long message… and, on stage, 140 characters is long.
Let me highlight a comment that Dan from HonestlyKid.net left on my blog earlier this week:
It seems that the more subtle the speaker's point, the more impatient and nasty the audience became. While it's easy enough to blame the new tech in the room for this shoddy behavior, I'm not sure we're seeing anything new at all here. It certainly didn't feel new to me from where I sat. Consider the recent Town Hall meetings around health care – substantive discussions of important issues were subsumed in cat calls and shouted rumors.

That said, having participated in this bad behavior, I noticed something else about the way it felt to put something on that wall. The twitterwall subverted twitter's more symmetric conversation model of communication. Posting to the wall was like creating and sharing a public secret about the speaker (a little like political grafiti except it wasn't anonymous).

The wall made a spectacle of the crowd's impatience and anxiety feeding on the speaker's inability to respond. That spectacle united us not as a single group receiving challenging ideas from a thoughtful orator but as quite separate individuals struggling to listen, read, respond, and make sense of the event. We moved from web conference to twitter circus.
I think that Dan nailed it. I think that the backchannel is perfectly reasonable as a frontchannel when the speaker is trying to entertain, but when the goal is to convey something with depth, it encourages people to be impatient and frustrated, to feed on the speaker. There's a least common denominator element to it. I was not at Web2.0 Expo to entertain, but to inform. Yes, I can be an entertaining informant, but there's a huge gap between the kind of information that Baratunde tries to convey in his comedic format and what I'm trying to convey in a more standard one. And there's no doubt I packed too much information into a 20 minute talk, but my role is fundamentally to challenge audiences to think. That's the whole point of bringing a scholar to the stage. But if the audience doesn't want to be challenged, they tune out or walk out. Yet, with a Twitter stream, they have a third option: they can take over.
The problem with a public-facing Twitter stream in events like this is that it FORCES the audience to pay attention the backchannel. So even audience members who want to focus on the content get distracted. Most folks can't multitask that well. And even if I had been slower and less dense, my talks are notoriously too content-filled to make multi-tasking possible for the multi-tasking challenged. This is precisely why I use very simplistic slides that evokes images for the visual types in the room without adding another layer of content. But the Twitter stream fundamentally adds another layer of content that the audience can't ignore, that I can't control. And that I cannot even see.
Now, I'm AOK with not having complete control of the audience during a talk, but it requires a fundamentally different kind of talk. That was not what I prepared for at all. Had I known about the Twitter stream, I would've given a more pop-y talk that would've bored anyone who has heard me speak before and provided maybe 3-4 nuggets of information for folks to chew on. It would've been funny and quotable but it wouldn't have been content-wise memorable. Perhaps that would've made more sense? Realistically though, those kinds of talks bore me at this point. So I probably would've opted not to give a talk at all. Perhaps I'm not the kind of speaker you want if you want a Twitter stream? But regardless, what I do know is that certain kinds of talks do not lend themselves to that kind of dynamic. I would *NEVER* have given my talk on race and class in such a setting. I shudder to think about how the racist language people used when I gave that talk would've been perceived on the big screen.
Speaking of which… what's with the folks who think it's cool to objectify speakers and talk about them as sexual objects? The worst part of backchannels for me is being forced to remember that there are always guys out there who simply see me as a fuckable object. Sure, writing crass crap on public whiteboards is funny… if you're 12. But why why why spend thousands of dollars to publicly objectify women just because you can? This is the part that makes me angry.
Now, I don't mind being critiqued. I think that being a public figure automatically involves that. I've developed a pretty thick skin over the years, but there are still things that get to me. And the situation at Web2.0 Expo was one of those. Part of the problem for me is that, as a speaker, I work hard to try to create a conversation with the audience. When it's not possible or when I do a poor job, it sucks. But it also really sucks to just be the talking head as everyone else is having a conversation literally behind your back. It makes you feel like a marionette. And frankly, if that's what public speaking is going to be like, I'm out.
I don't want to be objectified when I'm speaking – either as a talking head or a sexual toy. I want to inspire, to invite you to think, to spark creative thoughts in your head. At Web2.0 Expo, I failed. And I failed publicly. I'm still licking my wounds. But I can take the fall. I can't take the idea that this is the future.
So I have a favor to ask… I am going to be giving a bunch of public speaking performances at web conferences in the next couple of months: Supernova and Le Web in December, SXSW in March, WWW in April. I will do my darndest to give new, thought-provoking talks that will leave your brain buzzing. I will try really really hard to speak slowly. But in return, please come with some respect. Please treat me like a person, not an object. Come to talk with me, not about me. I'm ready and willing to listen, but I need you to be as well. And if you don't want to listen, fine, don't. But please don't distract your neighbors with crude remarks. Let's make public speaking and public listening an art form. Maybe that's too much to ask for, but really, I need to feel like it's worth it again.
For those looking for the text of my Web2.0 Expo talk, it's here: "Streams of Content, Limited Attention: The Flow of Information through Social Media."