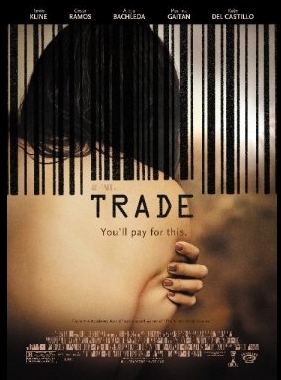 Unrelated to my research, I recently met a teen activist from a local high school. She runs a student group called "Students Against Human Trafficking." Tonight, her group put together a screening of the 2007 film Trade at a local movie theater, followed by a discussion with the producer.
Now, I watch a lot of film and I pay attention to what's coming out that deals with serious matters, but I was completely unaware of this film. And yet, it was stunning. Heartbreaking, moving, jawdropping. Unfortunately, the film was only released in 25 cities, was not advertised, and was pulled two weeks after release so most people who should see it didn't. Gosh darn it, I hate when the studios get cagey about serious films and fail to actually promote them like they should. Anyhow, the film is now on DVD and I want to encourage everyone to see it. It's haunting, but definitely worth it. And it will definitely make you think.
"Trade" depicts the global dynamic of sex trafficking, focusing on the role that American demand plays in the perpetuation of this insidious business. The film centers on the story of a young Mexican boy who is on the edge of becoming a thug himself when his younger sister is abducted and trafficked, eventually to be sold through an Internet sex slave auction. Through luck, he ends up running into a cop (Kevin Kline) who is trying to make sense of this business and reluctantly agrees to help him find his sister. Weaving together the stories of people who are abducted or experience the emotional devastation of sex trafficking, this film is a brilliant although disturbing portrait of a real life criminal business. An absolutely must-see. Haunting, yet important.
If you'd prefer a more serious approach to this horrific topic, I also recommend checking out the PBS documentary on Lives For Sale. (My cousin-in-law was involved in the production of this piece.) This film steps back to think about the dark side of illegal immigration and the black market trade in human beings.